With parking rates slated to increase in the new year for Montgomery County operated garages and lots in Bethesda, Silver Spring, and Wheaton, the Division of Parking Management (MCDOT) announced a new parallel pilot program to begin accepting Bitcoin payment. The tech-savvy initiative was presented as a way to help financially burdened residents pay for higher parking rates as well as to "rescue" the beleaguered financial situation of the Parking Lot District (PLD) for each downtown area, starting with a pilot program in downtown Bethesda.
Bitcoin has been generally skyrocketing over the past year both in value and in the news. "We really wanted to capitalize on Bitcoin's popularity," County spokesperson Coris Ponder exchanged. "It's a perfect solution. Bitcoin's rising value gives the Parking Lot District (PLD) additional revenue without technically raising prices. We don't even need to reprogram the meters each month to adjust the pricing whenever the parking rates do go up for real."
Bitcoin and Downtown Bethesda Pricing Comparison


* Bitcoin pricing history chart courtesy of Wikipedia
While the flexible payment options were generally lauded, not everyone was in support of the parking price increase. County resident Jordan Bentley asked, "If our County's young adults can't afford downtown rent, what makes you think they can afford downtown parking?"
County Councilmember Andrew Friedson, who did not support the timing of a proposed parking price increase in the middle of a pandemic, did applaud the move to Bitcoin payments. He explained that "[Bitcoin] allows us to shift the needed additional revenue generation to those making a killing in cryptocurrency. It's a perfect pairing!"
The County noted that the goal of providing a hip new payment method was not to drive more vehicular traffic, but rather to "face the reality that millennials just don't seem very interested in coming to downtown Bethesda." Ponder added, "We've done everything we can to attract millennials – from luxury high-rises to pocket parks to the highest per capita of bank branches on the East Coast. We weren't sure what to do next, so figured we'd try and see if the lure of cool cryptocurrency might just be the ticket."
Financial troubles have plagued the Bethesda PLD for quite some time, almost going broke in 2015.  Ponder explained that the Transportation & Environment Committee was comfortable moving forward with the current plan. "We'll totally be fine as long as we keep finding assets to sell to developers and finally attract those millennials we've been courting."
When informed of the recent volatility of Bitcoin, Ponder shrugged off the news. "Any government program will have its ups and downs, but the revenue opportunity is just as clear as what exactly cryptocurrency is."
MCDOT PLD Parking Rates and Hours
PLD Parking Rate Increase:
The County Council adopted new hours requiring payments in Bethesda, Silver Spring and Wheaton. New effective dates are listed below:
Bethesda:
The County Council adopted a parking rate increase in Bethesda. New rates and effective dates are listed below:
Garages 40, 47, 57 – New rates: $1.75 per hour – Effective Jan 3, 2022
Garages 31, 35, 36, 42, 49 – New rates: $1.50 per hour – Effective Jan 3, 2022
Lots 8, 10, 24, 25, 28, 41, 44 – New rates: $2.00 per hour – Effective Jan 3, 2022
Garage 11 – New rates: $1.50 per hour – Effective Feb 1, 2022
Silver Spring
Garages 3, 7, 9, 16, 58, 60, 61 – Hours requiring payment: 7:00am to 10:00pm, Mon to Fri – Effective Jan 3, 2022
Garages 2, 4, 5/55 – Hours requiring payment: 7:00am to 10:00pm, Mon to Fri – Effective Jan 18, 2022
All Lots in Silver Spring – Hours requiring payment: 7:00am to 10:00pm, Mon to Fri – Effective Jan 3, 2022
Wheaton
Garages 13, 45 – New rates: $1.00 per hour – Hours requiring payment: 7:00am to 10:00pm, Mon to Sat – Effective Jan 3, 2022
All Lots in Wheaton – New rates: $1.00 per hour – Hours requiring payment: 7:00am to 10:00pm, Mon to Sat – Effective Jan 10, 2022
MCDOT PLD Parking Rates and Hours
After meeting virtually since March 2020 due to the Covid-19 pandemic and ongoing Council building renovations, Montgomery County Councilmembers issued a statement today announcing that in-person public meetings would resume on November 9, 2022. When asked about the obvious timing immediately following the County's elections, Council spokesperson Mark Meword responded, "it's just purely coincidental. The contractor expects the renovations to be complete by that date."
Council Education and Culture Committee Chair Rice indicated "the timing is actually perfect as it will allow for our trailblazing MCPS teachers and students to have more than one full in-person school year under their belt before we return." Fellow Committee Member Navarro added "it is very important to ensure the renovation of the hearing room is finished in order for the Council dais to accommodate the additional two district Councilmembers. We wouldn't want them to be in an overcrowded facility or short a seat." In an email to Bethesda Bonfire, Council Staff indicated they considered a temporary solution while waiting for the project to be done, but ultimately deemed it fiscally problematic, noting "do you know how much portables cost?"
When asked about the delay, At-Large Councilmember Jawando, who is running for re-election, responded that it actually worked out well since "it wouldn't be fair if current members picked their seats before the two new district members were elected to fight over where they wanted to sit."
At-Large Councilmember Riemer was quick to point out that the ability to continue to work virtually from home in the meantime also meant Councilmembers could easily embody the concept of 15-minute living, which is a major theme of Thrive 2050, the County's proposed general plan. Riemer, who is currently running for County Executive, said he appreciated not having to make the "trek from Takoma Park to the Council offices in Northern North Bethesda" for in-person Council meetings and public hearings, as it allowed him more time for in-person campaigning. "It is so much better to raise a glass of locally brewed Silver Branch Metro Gnome beer with supporters at in-person fundraising events instead of on zoom," he noted.
A violent clash broke out today in Rockville, MD, as police were called in to break up an altercation between All Lives Matters supporters and a large gathering of shoppers hoping to score deals the day after Thanksgiving.  The equal opportunity All Lives Matters supporters apparently misunderstood the meaning of Black Friday, mistaking long lines at Best Buy for "violent and unruly protests."
All Lives Matter ally Ali Waller and her girlfriends were just heading home from mimosa brunch when they spotted the pack. "We were just driving up Rockville Pike, minding our own business, when we saw this violent mob descend on the poor workers. They were banging on the glass doors trying to get in! The crowds were so packed we could barely find a parking spot for our Mercedes G-Wagon."
Computer aficionado Chip O'Dell explained the chaos from his vantage point as first in line. "I was by myself, I mean was with my uhm girlfriend, camping overnight to get on the waitlist for the Nvidia GeForce 3080 for my Bitcoin mining rig. Out of nowhere these women just came at us screaming about equality."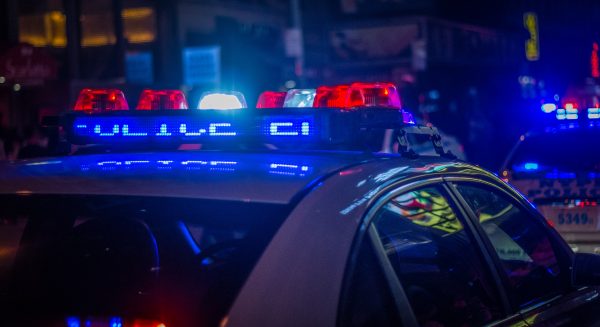 Montgomery County Police arrived on the scene only 2 minutes into the mishap, quickly escorting the mask-less screaming women off the property. Police Community Services Officer Dana Stroman issued a statement to Twitter verified reporter Caitlynn Peetz, who was standing by and had her own Bethesda Beat article written and published immediately after. "The situation was quickly defused thanks to our well-trained officers.  We pointed the ladies in the direction of Saks Fifth Avenue in Friendship Heights and told them about the $75 gift promotion with purchase of $150 and they quickly hurried off without making any further scene."
Black Friday shoppers weathered the weather with high hopes to beat out the other early bird shoppers in getting sales and discounts on the latest technology and toys during the holiday shopping season. With businesses all across the county struggling to stay afloat throughout the pandemic, retailers hope this last ditch effort will help bring them "into the black" for 2021. Bed Bath & Beyond spokesperson Barry Yonder explained, "We're really working hard to reel in the customers. The $9.99 toasters and 3,000 thread-count duvet covers hopefully should do the trick to keep the lights on."
County Executive Marc Elrich announced in a press conference today his plans to retire for the weekend to mask-free Frederick County's Sugaraloaf Mountain, with a stopover in tentatively mask-free Montgomery County's Sugarloaf Mountain Vineyard.
Special Assistant BB Otero explained, "As a special birthday treat, Marc has decided to officially resign himself to a weekend of peace and quiet up in the mountains.  It will be a breath of fresh area and well-earned break from the myriad challenges of running a county with a million caring residents."

Critics and supporters together agreed it was a well-deserved rest after a first-term tenure marked by unprecedented circumstances such as the COVID pandemic, Purple Line debacle, and other large-scale issues facing the county. "It's a tough job, and COVID has forced the County Executive to make difficult, nay impossible choices.  We're proud he's held us all together and kept us safe for so long," County resident Jordana Smith explained. "His decisions have led us to be one of the top vaccinated counties in the nation, it's amazing!"
Chief Administrative Officer Rich Madaleno was happy for the County Executive. "He deserves some rest and relaxation.  It'll be nice to see Marc enjoy some time for himself, and recharge a bit for round two." Madaleno appeared to be referring to Elrich's earlier decision to run for re-election in 2022.
Next year's race for County Executive has been heating up, with not just previous opponent David Blair lining up for a second chance against Elrich, but notably term-limited current County Councilmember Hans Riemer throwing his hat in the ring.  Current County Councilmember Tom Hucker is exploring the idea of jumping into the mix as well, although he does have the option to run again for County Council next term, where-as Riemer does not have a choice to stay.
Elrich was thankful for all of the well wishes, "I appreciate all of the birthday well-wishes. It's great to finally take a break and strum my guitar – I've been working on figuring out the chords for Alicia Keys' 'Good Job'." Sighing a long drawn out sigh, he added, "It will definitely be a nice internet-break for some much needed reprieve from all the mean-spirited Tweets."
The latest in the expanding market of automotive dealerships in downtown Bethesda is a new Koons Lincoln of Bethesda, where work is underway in the Bethesda Crossing building at 7315 Wisconsin Avenue. Once open, that will bring the grand total of new and used car dealerships in downtown to at least nine.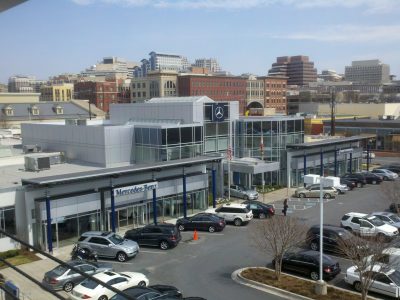 With up to 20% vacancy rates in commercial properties in Bethesda and many retailers closing under the pressure of pandemic-related problems, Montgomery County published a Request For Proposals (RFP) to bring additional dealerships into the area. County spokesperson Coris Ponder explained, "Now is a prime time for car dealerships to take up prime real estate in a previously underserved market. Downtown Bethesda can be so much more than Wonderfully Walkable – it can be Delightfully Driveable too!"
"It's time for Bentley and Lotus to come back to Bethesda!"  The RFP offered escalating rent abatement, starting with $5/sqft for pedestrian Mazda and Hyundai dealerships, $10/sqft for luxury brands such as Land Rover and BMW, and a premium $20/sqft for the likes of Aston Martin, Ferrari, and Lamborghini. "Sure some of these dealerships are just up the Pike in Rockville, but if the Choice headquarters relocation is any indication, then many must be willing to move a mere 3 miles down the street to greener pastures."
When asked about the possibility of a popular Tesla showroom in downtown Bethesda, Tesla CEO Elon Musk responded via Tweet, "Doesn't every Bethesdan already  own a Tesla? And I thought we already had a Tesla showroom in Bethesda?" Tesla does technically have a showroom in Bethesda, located inside Montgomery Mall at 7101 Democracy Boulevard, Bethesda, MD 20817.
This new focus was spurred by a combination of Maryland state funding earmarked for transportation combined with federal funding for equity initiatives. The Washington Metropolitan Area Transit Authority (WMATA) and the Maryland Department of Transportation (MDOT) have teamed up for a new way to seek to gain some balance in the transit equation. Maryland Governor Hogan was all aboard with more urban car dealership capacity and applauded the focus on what he called "automotive transportation equity."
WMATA spokesperson Carson Tubeman announced, "We want to ensure every mass transit user has an opportunity to hop right into a brand new car with Ride & Park. Public transportation in the area has often enjoyed the spotlight, with big investments into Metro car safety, the first-class Purple Line, expanding free Ride-On, planning for protected bike lanes, and the futuristic high-speed BRT. Cars are part of the modal-share too, and it's about time they get their due."
MDOT spokesperson Barry Wheeler explained the rationale behind the initiative. "It's not such a loco motive if you think about it. There are so many mass transit options in downtown Bethesda. As an over 25% non-white inclusive community, we're making sure all transportation options are equitably represented as a show of our honest push for equality. Plus with the wide range of cars available, we're not worried about a recall for a single model car derailing half of the transportation fleet."
Transit pundits had mixed reactions. The Action Committee for Transit Twittter feed was awash with mixed feelings.  One Tweet summed up some of the internet's reactions, "Well, at least that new car smell might wash away some of this stink from the Purple Line mess."
We here at the Bethesda Bonfire quite clearly understand that if democracy dies in darkness, why not light it all on fire with the biggest bonfire this side of the DMV!