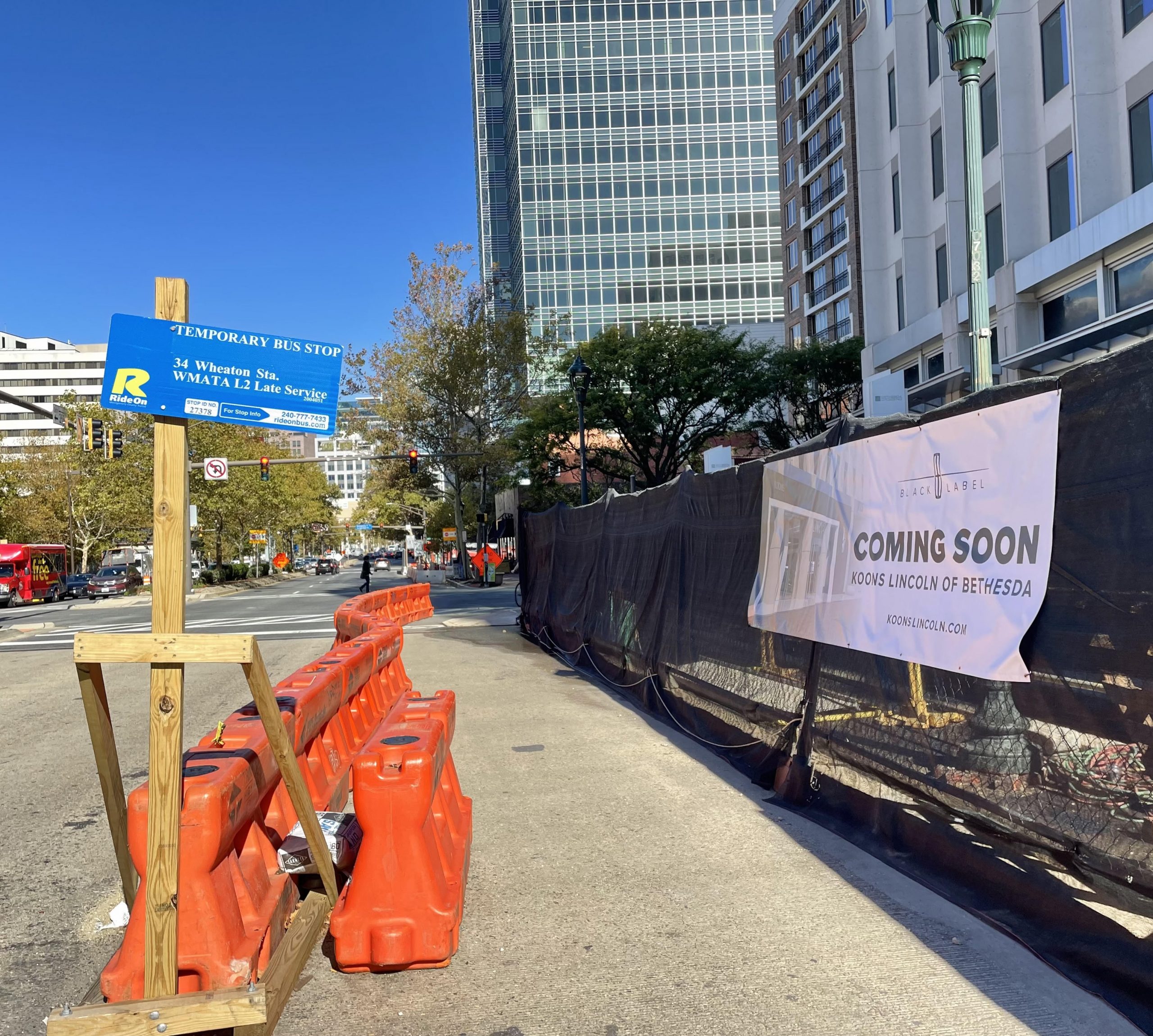 The latest in the expanding market of automotive dealerships in downtown Bethesda is a new Koons Lincoln of Bethesda, where work is underway in the Bethesda Crossing building at 7315 Wisconsin Avenue. Once open, that will bring the grand total of new and used car dealerships in downtown to at least nine.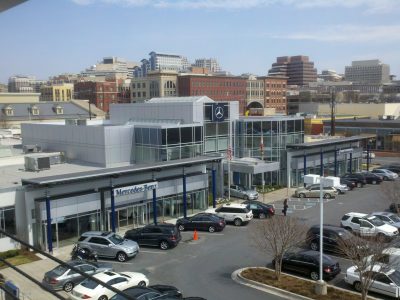 With up to 20% vacancy rates in commercial properties in Bethesda and many retailers closing under the pressure of pandemic-related problems, Montgomery County published a Request For Proposals (RFP) to bring additional dealerships into the area. County spokesperson Coris Ponder explained, "Now is a prime time for car dealerships to take up prime real estate in a previously underserved market. Downtown Bethesda can be so much more than Wonderfully Walkable – it can be Delightfully Driveable too!"
"It's time for Bentley and Lotus to come back to Bethesda!"  The RFP offered escalating rent abatement, starting with $5/sqft for pedestrian Mazda and Hyundai dealerships, $10/sqft for luxury brands such as Land Rover and BMW, and a premium $20/sqft for the likes of Aston Martin, Ferrari, and Lamborghini. "Sure some of these dealerships are just up the Pike in Rockville, but if the Choice headquarters relocation is any indication, then many must be willing to move a mere 3 miles down the street to greener pastures."
When asked about the possibility of a popular Tesla showroom in downtown Bethesda, Tesla CEO Elon Musk responded via Tweet, "Doesn't every Bethesdan already  own a Tesla? And I thought we already had a Tesla showroom in Bethesda?" Tesla does technically have a showroom in Bethesda, located inside Montgomery Mall at 7101 Democracy Boulevard, Bethesda, MD 20817.
This new focus was spurred by a combination of Maryland state funding earmarked for transportation combined with federal funding for equity initiatives. The Washington Metropolitan Area Transit Authority (WMATA) and the Maryland Department of Transportation (MDOT) have teamed up for a new way to seek to gain some balance in the transit equation. Maryland Governor Hogan was all aboard with more urban car dealership capacity and applauded the focus on what he called "automotive transportation equity."
WMATA spokesperson Carson Tubeman announced, "We want to ensure every mass transit user has an opportunity to hop right into a brand new car with Ride & Park. Public transportation in the area has often enjoyed the spotlight, with big investments into Metro car safety, the first-class Purple Line, expanding free Ride-On, planning for protected bike lanes, and the futuristic high-speed BRT. Cars are part of the modal-share too, and it's about time they get their due."
MDOT spokesperson Barry Wheeler explained the rationale behind the initiative. "It's not such a loco motive if you think about it. There are so many mass transit options in downtown Bethesda. As an over 25% non-white inclusive community, we're making sure all transportation options are equitably represented as a show of our honest push for equality. Plus with the wide range of cars available, we're not worried about a recall for a single model car derailing half of the transportation fleet."
Transit pundits had mixed reactions. The Action Committee for Transit Twittter feed was awash with mixed feelings.  One Tweet summed up some of the internet's reactions, "Well, at least that new car smell might wash away some of this stink from the Purple Line mess."
Share This Story, Choose Your Platform!