A violent clash broke out today in Rockville, MD, as police were called in to break up an altercation between All Lives Matters supporters and a large gathering of shoppers hoping to score deals the day after Thanksgiving.  The equal opportunity All Lives Matters supporters apparently misunderstood the meaning of Black Friday, mistaking long lines at Best Buy for "violent and unruly protests."
All Lives Matter ally Ali Waller and her girlfriends were just heading home from mimosa brunch when they spotted the pack. "We were just driving up Rockville Pike, minding our own business, when we saw this violent mob descend on the poor workers. They were banging on the glass doors trying to get in! The crowds were so packed we could barely find a parking spot for our Mercedes G-Wagon."
Computer aficionado Chip O'Dell explained the chaos from his vantage point as first in line. "I was by myself, I mean was with my uhm girlfriend, camping overnight to get on the waitlist for the Nvidia GeForce 3080 for my Bitcoin mining rig. Out of nowhere these women just came at us screaming about equality."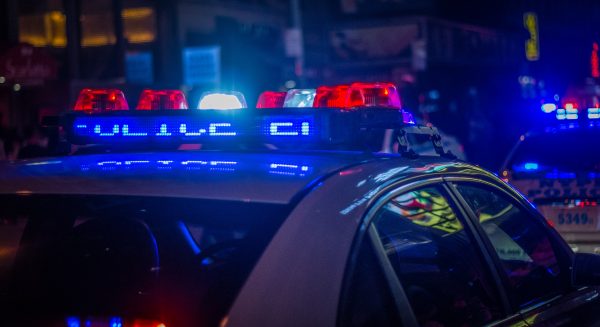 Montgomery County Police arrived on the scene only 2 minutes into the mishap, quickly escorting the mask-less screaming women off the property. Police Community Services Officer Dana Stroman issued a statement to Twitter verified reporter Caitlynn Peetz, who was standing by and had her own Bethesda Beat article written and published immediately after. "The situation was quickly defused thanks to our well-trained officers.  We pointed the ladies in the direction of Saks Fifth Avenue in Friendship Heights and told them about the $75 gift promotion with purchase of $150 and they quickly hurried off without making any further scene."
Black Friday shoppers weathered the weather with high hopes to beat out the other early bird shoppers in getting sales and discounts on the latest technology and toys during the holiday shopping season. With businesses all across the county struggling to stay afloat throughout the pandemic, retailers hope this last ditch effort will help bring them "into the black" for 2021. Bed Bath & Beyond spokesperson Barry Yonder explained, "We're really working hard to reel in the customers. The $9.99 toasters and 3,000 thread-count duvet covers hopefully should do the trick to keep the lights on."
County Executive Marc Elrich announced in a press conference today his plans to retire for the weekend to mask-free Frederick County's Sugaraloaf Mountain, with a stopover in tentatively mask-free Montgomery County's Sugarloaf Mountain Vineyard.
Special Assistant BB Otero explained, "As a special birthday treat, Marc has decided to officially resign himself to a weekend of peace and quiet up in the mountains.  It will be a breath of fresh area and well-earned break from the myriad challenges of running a county with a million caring residents."

Critics and supporters together agreed it was a well-deserved rest after a first-term tenure marked by unprecedented circumstances such as the COVID pandemic, Purple Line debacle, and other large-scale issues facing the county. "It's a tough job, and COVID has forced the County Executive to make difficult, nay impossible choices.  We're proud he's held us all together and kept us safe for so long," County resident Jordana Smith explained. "His decisions have led us to be one of the top vaccinated counties in the nation, it's amazing!"
Chief Administrative Officer Rich Madaleno was happy for the County Executive. "He deserves some rest and relaxation.  It'll be nice to see Marc enjoy some time for himself, and recharge a bit for round two." Madaleno appeared to be referring to Elrich's earlier decision to run for re-election in 2022.
Next year's race for County Executive has been heating up, with not just previous opponent David Blair lining up for a second chance against Elrich, but notably term-limited current County Councilmember Hans Riemer throwing his hat in the ring.  Current County Councilmember Tom Hucker is exploring the idea of jumping into the mix as well, although he does have the option to run again for County Council next term, where-as Riemer does not have a choice to stay.
Elrich was thankful for all of the well wishes, "I appreciate all of the birthday well-wishes. It's great to finally take a break and strum my guitar – I've been working on figuring out the chords for Alicia Keys' 'Good Job'." Sighing a long drawn out sigh, he added, "It will definitely be a nice internet-break for some much needed reprieve from all the mean-spirited Tweets."
The latest in the expanding market of automotive dealerships in downtown Bethesda is a new Koons Lincoln of Bethesda, where work is underway in the Bethesda Crossing building at 7315 Wisconsin Avenue. Once open, that will bring the grand total of new and used car dealerships in downtown to at least nine.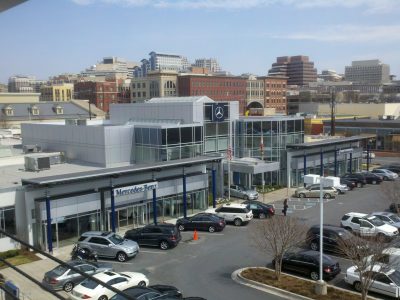 With up to 20% vacancy rates in commercial properties in Bethesda and many retailers closing under the pressure of pandemic-related problems, Montgomery County published a Request For Proposals (RFP) to bring additional dealerships into the area. County spokesperson Coris Ponder explained, "Now is a prime time for car dealerships to take up prime real estate in a previously underserved market. Downtown Bethesda can be so much more than Wonderfully Walkable – it can be Delightfully Driveable too!"
"It's time for Bentley and Lotus to come back to Bethesda!"  The RFP offered escalating rent abatement, starting with $5/sqft for pedestrian Mazda and Hyundai dealerships, $10/sqft for luxury brands such as Land Rover and BMW, and a premium $20/sqft for the likes of Aston Martin, Ferrari, and Lamborghini. "Sure some of these dealerships are just up the Pike in Rockville, but if the Choice headquarters relocation is any indication, then many must be willing to move a mere 3 miles down the street to greener pastures."
When asked about the possibility of a popular Tesla showroom in downtown Bethesda, Tesla CEO Elon Musk responded via Tweet, "Doesn't every Bethesdan already  own a Tesla? And I thought we already had a Tesla showroom in Bethesda?" Tesla does technically have a showroom in Bethesda, located inside Montgomery Mall at 7101 Democracy Boulevard, Bethesda, MD 20817.
This new focus was spurred by a combination of Maryland state funding earmarked for transportation combined with federal funding for equity initiatives. The Washington Metropolitan Area Transit Authority (WMATA) and the Maryland Department of Transportation (MDOT) have teamed up for a new way to seek to gain some balance in the transit equation. Maryland Governor Hogan was all aboard with more urban car dealership capacity and applauded the focus on what he called "automotive transportation equity."
WMATA spokesperson Carson Tubeman announced, "We want to ensure every mass transit user has an opportunity to hop right into a brand new car with Ride & Park. Public transportation in the area has often enjoyed the spotlight, with big investments into Metro car safety, the first-class Purple Line, expanding free Ride-On, planning for protected bike lanes, and the futuristic high-speed BRT. Cars are part of the modal-share too, and it's about time they get their due."
MDOT spokesperson Barry Wheeler explained the rationale behind the initiative. "It's not such a loco motive if you think about it. There are so many mass transit options in downtown Bethesda. As an over 25% non-white inclusive community, we're making sure all transportation options are equitably represented as a show of our honest push for equality. Plus with the wide range of cars available, we're not worried about a recall for a single model car derailing half of the transportation fleet."
Transit pundits had mixed reactions. The Action Committee for Transit Twittter feed was awash with mixed feelings.  One Tweet summed up some of the internet's reactions, "Well, at least that new car smell might wash away some of this stink from the Purple Line mess."
While actual development and progress on the Purple Line and Capital Crescent Trail might be stuck in purgatory, plans for the trail's northern entrance (where is that again?) are starting to come together with plentiful bike storage and other much desired amenities. The planned changing room and shower facility is expected to provide nice respite for weary travellers along the trail, and Kiehl's samples will be provided courtesy of Blue Mercury on Bethesda Row.
The plans don't stop there, as the The Maryland Department of Transportation (MDOT) has committed an $2m to upgrade the planned bathroom into a full blown sauna and steam room. MDOT representative Barry Wheeler explained, "Costs have already escalated 3-fold. What's a a bit more?"
Civic activist Rick Cumbent was excited, "After a long ride on the trail on my $4,000 Specialized bicycle to attend the planning board work session, I deserve a good shower, steam, and deep tissue massage to relax and center myself."
The county has put out an RFP for onsite yoga studios and massage parlors to calm riders and Purple Line protestors alike. "Admittedly, the residents really deserve this amenity after putting up with neverending construction and a compromised trail," explained County spokesperson Coris Ponder. "Hopefully the excellent hands of Heidi and Bruno will help relieve the stress of years and years of fighting and waiting."
Vending machines serving San Pellegrino and pistachio flavored macaroons will be available on site and accept only $100 bills. No change will be given as the balance will be taken up in collection to help pay in part for the Purple Line cost overruns.
The bike storage with lift assist will be covered and protected from rain with cantilevered glass canopies embedded with specialized LED lighting serving to better showcase fancy bikes.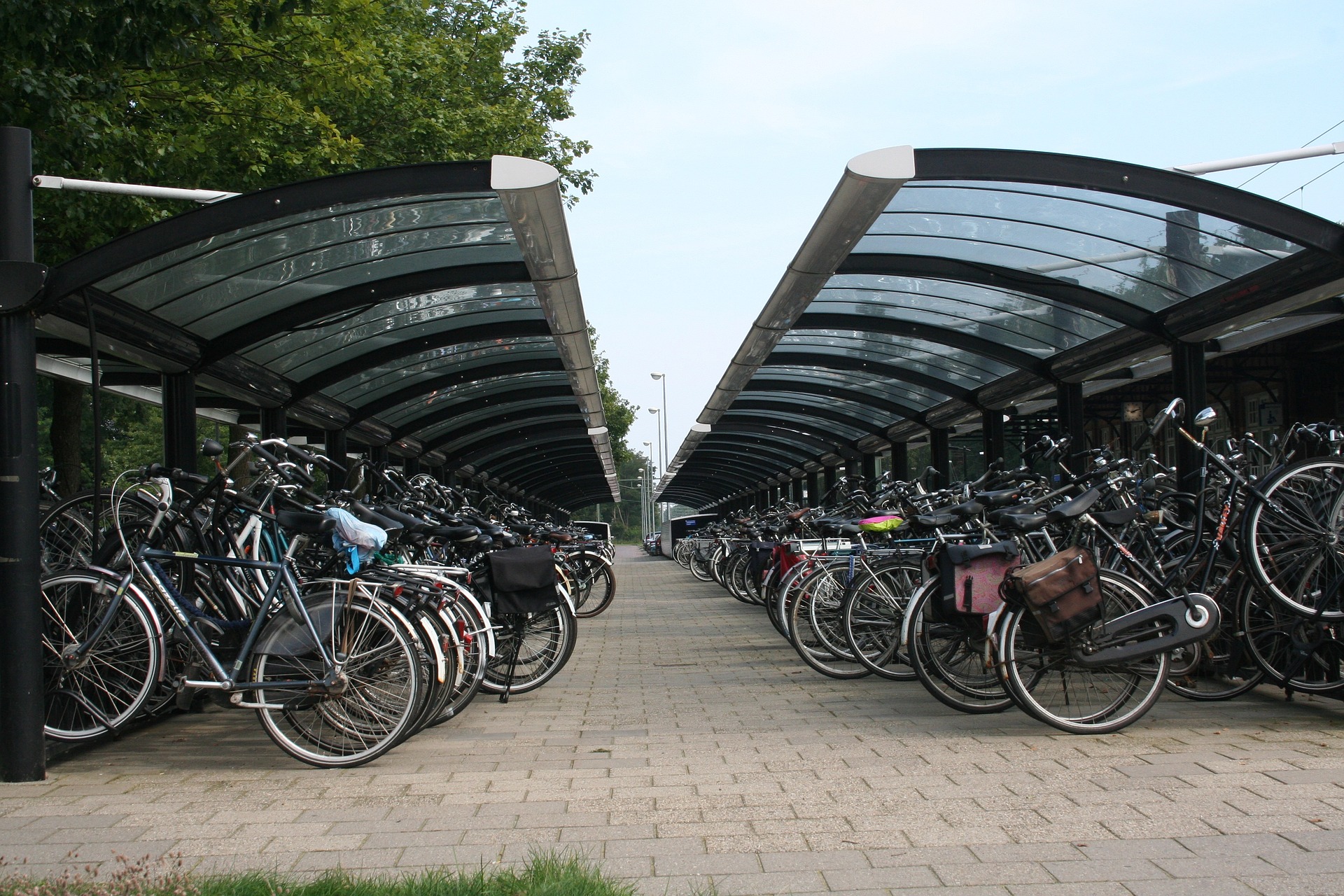 A planned safe crossing for zebras was nixed at the last minute given the somber news that one of the three escaped zebras was found perished. Ponder explained, "That's 33.333% of our planned users so it doesn't make fiscal sense to build it with such low predicted usage numbers."
Despite anticipated 50% lower human ridership, the collaborative Purple Line mass transit project continues undeterred.
The County exhibited their agile leadership today in revealing a new "Streets 2 Streams" program aimed to transform downtown Bethesda into a "world class waterfront destination."
"We see the success that The Wharf and Old Town Alexandria have and think about how all our critics always complain why can't we be more like DC and NoVa?! Well today we are proud to announce the successful launch of our innovative and original Bethesda Waterfront initiative."
The recent bouts of storms and rain have brought water levels to precipitous heights around the county. It's been particularly noticeable in downtown Bethesda where the streets have literally become flooded and impassable by foot. Turns out all the resident complaints about flooding were not falling on deaf ears.
County spokesperson Coris Ponder displayed a series of charts and graphs showing how waterfront property traditionally brings in a higher level of revenue.
Ponder excitedly explained that the idea came "straight out from [the 1978 movie] Superman" where Lex Luthor attempted to drop California into the ocean and make his own desert land into new waterfront property. "But we're not the bad guy here, of course."
"We didn't have the funds or means to improve our storm water management system anyway, and figured this is a perfect solution to our ever-rising (water) problems. We're just beginning to turn on the faucet for more tax revenue to help improve obviously vital programs like our storm water management system."
We here at the Bethesda Bonfire quite clearly understand that if democracy dies in darkness, why not light it all on fire with the biggest bonfire this side of the DMV!