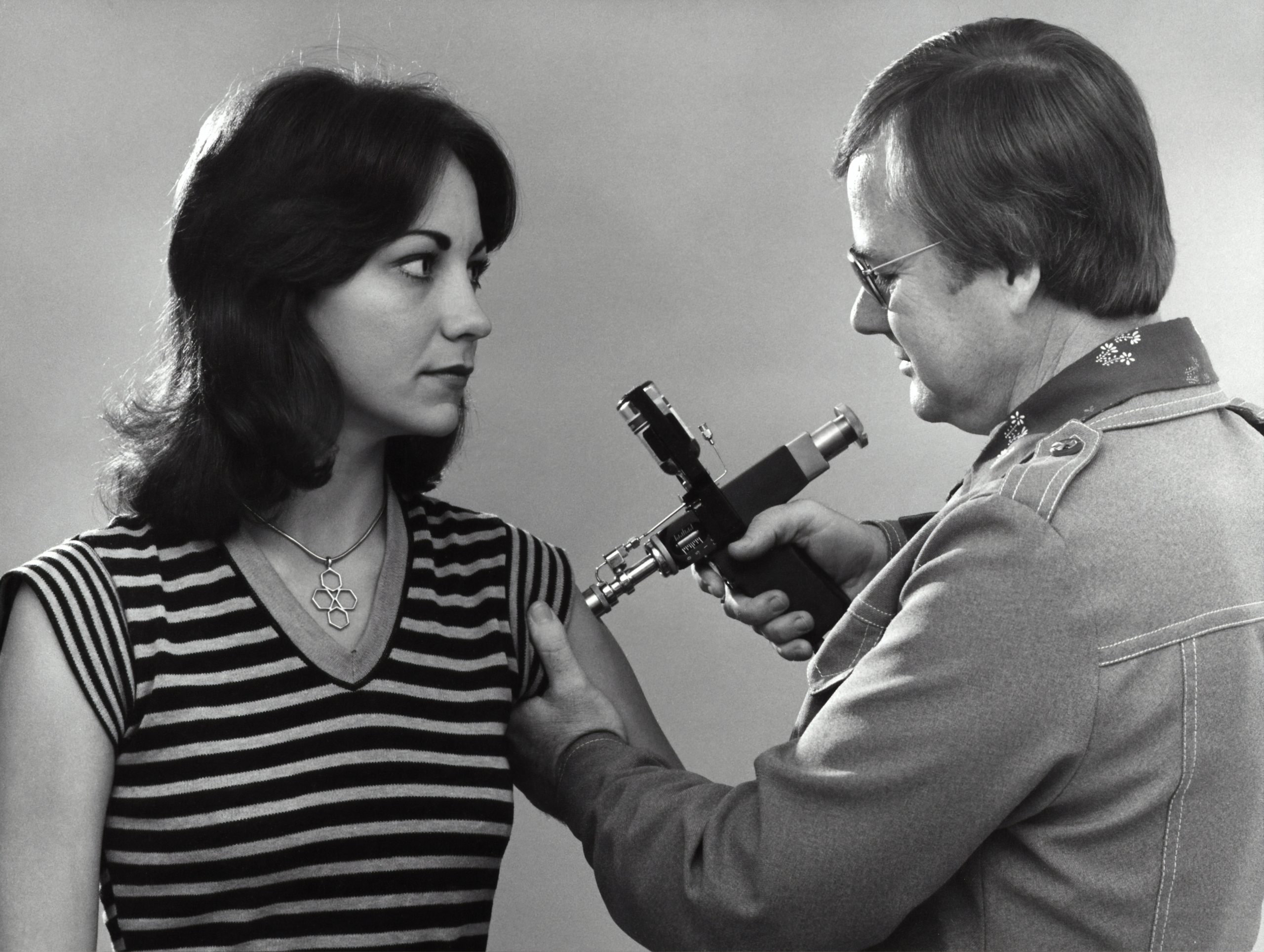 In a last-ditch effort to reach the remaining 15.2% of eligible COVID-19 vaccine holdouts, Montgomery County's Health Department has begun a targeted marketing campaign laden with incentives. Each incentive is designed to target a specific unvaccinated geographic audience.
For downtown Bethesda the Planning Department and developers desperate for retail tenants and new residents to fill their luxury apartments have coordinated to offer one fewer day of sidewalk closures during the next major construction project for each newly vaccinated resident* hailing from the area (*offer good for the first 5 residents).
Recently vaccinated Chevy Chase residents will be featured in the new Montgomery Community Media publication "Jab and Fab: The Magazine for Vaxxed High Society." Subscriptions will be free for each Chevy Chase resident who receives the vaccine. MyMCM indicated there are no plans to offer subscriptions to the broader unincorporated public.
In addition to those incentives, upon achieving a 90% vaccination rate:
Takoma Park residents will receive an extra County Council seat to further over-represent their interests, though residents questioned the need for measly County representation in light of their recent elevation to statehood.
Wheaton residents will get a promissory note from a developer to build a commercial building instead of residential. The prominent developer who signed the MOU commented, "Definitely, we see ourselves bringing class-A commercial office space to Wheaton sometime soon in the future maybe we'll see. But we promise we'll sign this, that's for sure!" Several prominent developers were seen entering the new M-NCPPC Wheaton headquarters with pockets stuffed with what residents can surely assume is cash, and walking out with empty pockets and smiles. Bethesda Bonfire conducted several man-on-the-street interviews and no one in the County could pronounce M-NCPPC nor knew what the tongue-twisting initials stood for, exactly.
Silver Spring residents will be awarded with a new plaque in recognition that they are officially cooler than Bethesda residents. Just Up The Pike publisher Dan Reed was reportedly chuffed at the news.
Upcounty residents will receive acknowledgement that they exist. An official document signed by all of the At-Large Councilmembers running for re-election and higher office will state that "Upcounty Opinions Matter." The document will be kept in a locked drawer at the Council offices in Rockville.
North Potomac residents were guaranteed they would receive as much legitimacy as North Bethesda.
Potomac residents asked to opt out of any incentives. One neighborhood representative there added, "Maybe a second bridge to our high-paying jobs in Northern Virginia would be an incentive, but otherwise we're okay, just leave us alone."
Travis Gayle, Health Officer & Chief of Public Health Services, Montgomery County, Maryland Department of Health, indicated that if unvaccinated residents didn't want to follow the science, perhaps it was time to "give them a shot in the arm, or the zip code, so to speak."
Share This Story, Choose Your Platform!