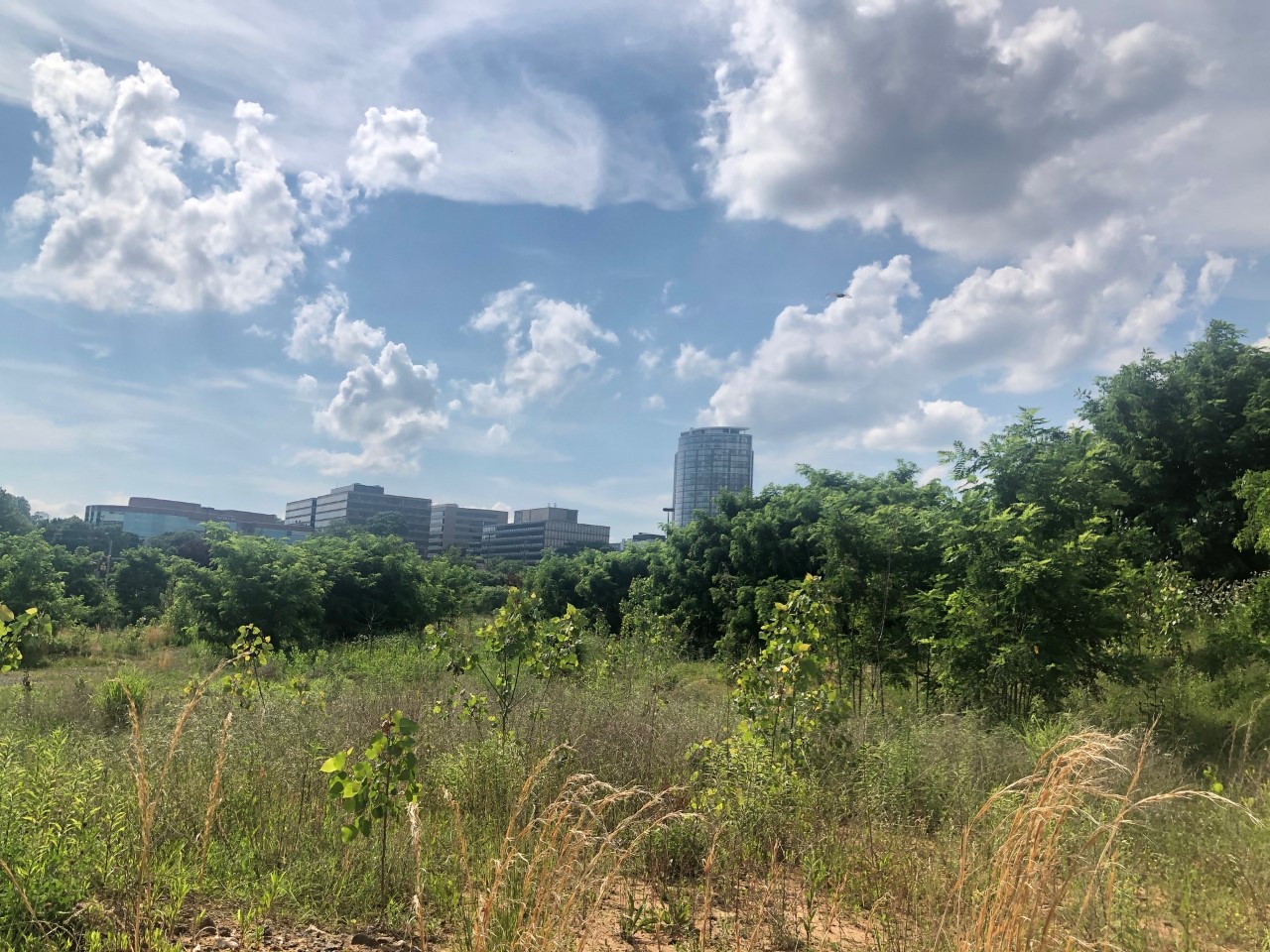 After sitting mostly vacant for many years, the former White Flint mall site will finally see some welcome action. Property owner Lerner Enterprises has announced a new exhibit, "Invasive Plants of Maryland," on the expansive 45-acre site.
The White Flint area has struggled with its identity and redevelopment in recent years, but local residents, officials, and organizations are hoping this announcement will help to activate the area. "We felt like this would be a great placemaking initiative and really take full advantage of this large site, perhaps even more so than the Amazon HQ proposal would have" said a Lerner representative. Local advocacy group Friends of White Flint promoted the announcement on their website and noted "by offering the land for this innovative educational purpose, the community benefits and the property owner qualifies for additional tax credits."
"People flocked to the outdoors during the pandemic; we expect that trend to continue," predicted Councilmember Andrew Friedson. Planning Chair Casey Anderson added that "being so close to a Metro station, next to a future BRT stop, and near a planned bike lane will allow visitors easy access to the exhibit."
Montgomery County Economic Development Corporation (MCEDC) officials indicated the exhibit is the first to take advantage of their new "Weeds to Wallets" economic partnership program. MCEDC spokeswoman, Wanda Overly, said she hopes the exhibit will become a regional attraction and a boost for the local economy. "We hope that people check it out, head to the gift shop, and then go grab lunch or dinner nearby."
The program has teamed up with the chef at Seasons 52 across Rockville Pike in North Bethesda to incorporate several fresh invasive cuisine menu items; and Hank Dietles across Rockville Pike in Rockville to offer a special brew made with plants foraged from the site. In addition, during the summer months, classic movies will be projected on the side of the vacant Lord & Taylor building during the evening, starting with Little Shop of Horrors on June 20th.
Local naturalist, Lucy McDonalds, said she was impressed with the site's variety of non-native offerings, "from Tree of Heaven and Norway maples, to Japanese Honeysuckle and Garlic Mustard, to Mile-A-Minute and Kudzu, this site has everything!" Local garden club member, Mary Wallflower, enthusiastically added "there are even a few native wildflowers, like daisy fleabane, on exhibit" but then specified, "until the aggressive non-natives push them out."
During inventory of the site, botanists also discovered a new invasive plant species. They are currently debating which scientific name to assign it – Rockvilius Southis, Bethesdicus Northis, Flinticus Whitis, Bezonian Amazonenis, or Planty McPlantface – and have created a poll to generate excitement about the finding and to obtain public input on the name.
*The exhibit and gift shop will be open seven days a week from 9AM until sunset. Botanists will also lead weekly public tours of the exhibit. Additional special events will be announced soon. Visitors are prohibited from taking specimens to replant at home. Visitors are also encouraged to wear bug spray and check for ticks.*
Share This Story, Choose Your Platform!